By Torie Coleman, Director of Operations, CAF Worldwide


As shipping experienced a first-half 2020 economic downturn, the effects of the novel coronavirus (COVID-19) also deepened the industry's mediocre trajectory.
While this seems daunting, there is a light at the end of the tunnel. Ocean and air freight rates are softening, China is rebounding, and demand is returning.
We outline current trends affecting this industry and discuss how freight forwarders can assist, below.
Industry Changes
Skipped or blank sailings have created an industry-wide lack of oceangoing cargo space.

There may be some relief in sight, however.


Blank Sailings vs. Total Sailings—Trade Overview—By Arrival Date


Source: American Shipper
"Fewer trans-Pacific sailings will be 'blanked' (canceled) in the third quarter—potentially many fewer—as U.S. importers recuperate from the first COVID-19 wave quicker than expected," reports American Shipper.
Additional factors include:
Most carriers have already experienced at least one to two skipped sailing weeks per month.
April through June were expected to incur 105 blank sailings. As of mid-June, third-quarter predictions are expected to be approximately 26.
The entire industry has incurred COVID-19-related financial losses. This includes reduced capacity with increased onboard spot rates.
Carriers will increase onboard tonnage as demand increases,
Pivoting Toward Personal Protective Equipment (PPE)
During recent COVID-19-induced delays and shutdowns, many apparel manufacturers began producing PPE.
Appropriate equipment and facilities have easily transitioned to mask, glove, and medical gown production.
PPE is essential and can be shipped from otherwise-shuttered countries of production.
Most shipping contingency plans resulted from COVID-19 and its economic effects.
Air Freight
While still a costlier alternative to ocean freight, air freight is returning toward pre-COVID-19 rates.
Air cargo rates have decreased as North American and European regions begin to phase in reopenings.
These are improvements from late-March rates induced by more than 50 percent capacity cuts along Asia-Europe and trans-Pacific trade routes.
Little to no capacity is still forcing carriers to retrofit passenger plans for cargo.
Despite China-based PPE reductions, uncertainty still remains for general cargo and passenger fleet bouncebacks.
It will reportedly take a minimum of five years to recover to pre-2019 levels.
Third-Quarter Predictions
If the aforementioned trends continue, certain sectors will recover quicker than others.
Other circumstances include:
Chinese production is rebounding slowly and steadily from COVID-19.
There are a greater number of alternative production nations, such as Vietnam, Bangladesh, Cambodia, and India.
Carriers will watch for increased demand. They'll adjust rates and capacity as they see fit to turn a profit.
A second wave of COVID-19 will change the industry's trajectory.
---
The preceding blog was excerpted in part from the CAF Quarterly Forecast. For additional insights, please complete the form below to download the full Q3 2020 edition.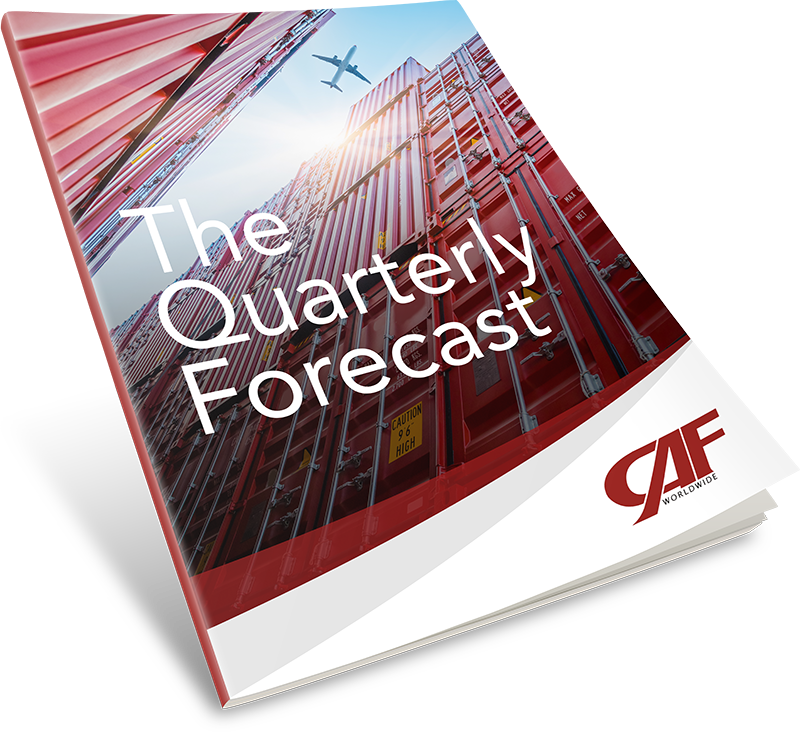 Download The Quarterly Forecast Now
Issue 8: July 2020
Featuring Insights from Customs Brokerage Expert and CAF Worldwide CEO Joe Barry, Trade Lane Notes by Director of Operations Torie Coleman, Thought Leader Commentaries, Legal Insights, and more!
Topics: Freight Forwarding, Global Economic Outlook, freight management logistics, Logistics and supply chain management