By Jeffrey Orenstein, International Trade & Transportation Attorney, K&L Gates, LLP


Aside from the novel coronavirus (COVID-19) and its unprecedented toll on global economic health, another serious challenge facing the apparel industry is the high duty rate for U.S. imports. Section 301 tariffs against Chinese imports continue to plague apparel companies, notwithstanding the Phase One Trade Deal reached with China earlier this year.
These tariffs raise costs for Chinese imports such as apparel (92 percent), footwear (53 percent), home textiles (68 percent), and all travel goods and accessories.
In addition to a significant tax on U.S. apparel commerce, they directly impact an estimated 4 million U.S. workers, as well as U.S. consumers.
Most Section 301 tariffs are expected to remain throughout 2020, based on the current trajectory of U.S.-China trade talks.
A March 7 article in The Journal of Commerce titled "March U.S. imports slammed by effects of COVID-19" reports a whopping 17.5-percent year-over-year decline in Asian imports— "the lowest monthly volume since march 2013," it states, citing data from port import/export reporting service PIERS, a JOC.com sister company within London–based global information provider IHS Markit. The piece attributes much of the drop to less orders of non-essential merchandise "amid plunging consumer demand and factory closures caused by the coronavirus disease 2019 (COVID-19)."
The dire economic situation will continue through the second quarter, predict analysts and international financial institutions. According to an April 3 MarketWatch report: "Morgan Stanley lowered its first-quarter GDP forecast to -3.4% from -2.4% and its second-quarter GDP forecast to -38% from -30%."
It continues that U.S. recovery will be longer than previously expected, with a steeper decrease followed by a gradual rebound.
"[The economy's] its third-quarter GDP estimate of 20.7% growth implies that the level of real GDP in the third quarter will recover back only 35% of the lost output in the first half of the year," it states.
BBC News quoted the managing director of the 189-member country International Monetary Fund bleakly assessing it "anticipate[s] the worst economic fallout since the Great Depression," among other ominous forecasts.
Alternative Measures
Beyond China, however, there are positive developments regarding import duties arising from other trade deals in various negotiation stages, with the latest pertaining to Kenya—the 20th-largest supplier of apparel to the U.S. market by volume.
A formal announcement of U.S.-Kenya trade negotiations is expected. Talks could commence this June. A mutually beneficial free trade agreement is supported by the American Apparel & Footwear Association.
There's also optimism regarding Brazil. Following a March 2020 meeting between U.S. President Donald Trump and Brazilian President Jair Bolsonaro, the White House announced accelerated efforts for a trade package. Although officials from both countries have been instructed to work toward its completion, it's uncertain whether such a deal would address duties on apparel, leather, and related goods.
European Union Trade Progression
Progress has been slow in European Union (EU) trade negotiations, partly due to U.S.-proposed, duty-free treatment for textiles and apparel products.
A March 6 report by international news organization Reuters quoted EU Trade Commissioner Phil Hogan stating: "The European Union and United States are taking slow, small steps toward a 'mini' trade deal.
There appears to be the political will in the EU to address difficult issues that have previously complicated U.S.-EU trade relationship, such as agricultural and auto tariffs, yet unlikely the Trump administration will soften its stance prior to the U.S. presidential election.
Greater Things Will Come
Trade negotiations are a naturally slow process, and the unprecedented challenges of the COVID-19 pandemic will undoubtedly further prolong a final resolution . Given the Trump administration's trade focus, however, optimism remains high that there is eventually light at the end of the tunnel for the apparel industry.

Jeffrey Orenstein is an international trade and transportation lawyer in the Washington, D.C. office of K&L Gates, LLP.
---
The preceding blog was excerpted in part from the CAF Quarterly Forecast. For additional insights, please complete the form below to download the full Q2 2020 edition.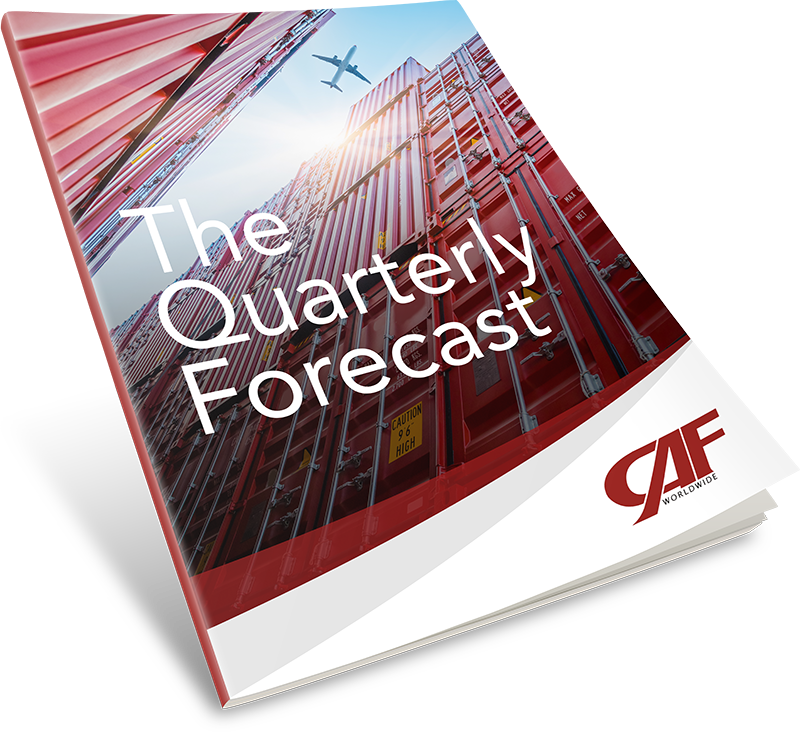 Download The Quarterly Forecast Now
Issue 7: April 2020
Featuring Insights from Customs Brokerage Expert and CAF Worldwide CEO Joe Barry, Trade Lane Notes by Director of Operations Torie Coleman, Thought Leader Commentaries, Apparel Industry Report, and more!
Topics: Freight Forwarding, Global Economic Outlook, freight management logistics, Logistics and supply chain management