Despite seismic change caused by the U.S.-China trade war and novel coronavirus (COVID-19) pandemic, the apparel industry could still rebound later in the year.
Before these challenges, the apparel trade was booming.
According to the U.S. International Trade Commission: "The value of U.S. imports of textiles and apparel rose by $6.3 billion (5.2 percent) to $127.7 billion in 2018. U.S. imports of textiles and apparel consisted principally of apparel (72 percent of total imports), which experienced the largest increase in value from 2017 by far, rising $3.8 billion (4.2 percent)."
The ongoing trade war between the United States and China has since forced many companies to switch supply routes and increase business partnerships with other countries, such as Vietnam, for example. Forging new relationships with these alternate nations is one way shippers, suppliers, and freight forwarders have been navigating the uncharted seas ahead.
"The U.S.-China trade war and impact of the coronavirus, not to mention more rapidly changing consumer preferences, supply chains are shortening and production lead times are being reduced," explains Peter Tirschwell, vice president of maritime and trade at IHS Markit. "This means that dependence on countries considered high risk is being reduced, sourcing is being diversified, and where possible, is brought closer to end markets."
"Both [tariffs and COVID-19] will indelibly change the supply chain forever," says David Weinand, chief customer officer, at Incisiv, Inc. "Retailers and brands have had close to a year to react to the tariffs, and many have changed production to areas like South America and other Asian countries outside of China."
Implementing new supply chain processes and technologies is another value-add, he continues.
"Information and technology are becoming core to logistics providers," adds Weinand. "Those that make the investments to create customer value in areas like cargo visibility will create lasting value and secure customer relationships; those that don't invest or can't due to lack of scale will be increasingly challenged."
According to Jordan Speer, research manager at IDC Insights, the importance of agile, resilient supply chains has been discussed for the last several years. As COVID-19 now demonstrates, most remain far from where they should be.
"To prepare themselves for future widespread supply chain disruptions, apparel companies will need to develop supply chains that are not only more resilient but also more diversified," she explains. "Today, a large number of brands have their operations concentrated in China. A strategy that spreads manufacturing across many regions and factories in China is not sufficient."
COVID-19 is changing how millions of people work, shop, and interact with each other. It will also alter the roles and perceptions of logistics providers and freight forwarders.
"Logistics should no longer be thought of as a cost of doing business, because it's not. It is a competitive differentiator," says Speer. "The ability to deliver product on time, to the destination of choice, in a manner pleasing to the customer so that the entire experience is a delight, is a large part of what customers are paying for today.
"It's not just about the product," she continues. "At a time like this, freight forwarders and logistics providers have an opportunity to shine and earn customer loyalty by helping fashion companies and other businesses get out of the jam they're in."


---
The preceding blog was excerpted in part from the CAF Quarterly Forecast. For additional insights, please complete the form below to download the full Q2 2020 edition.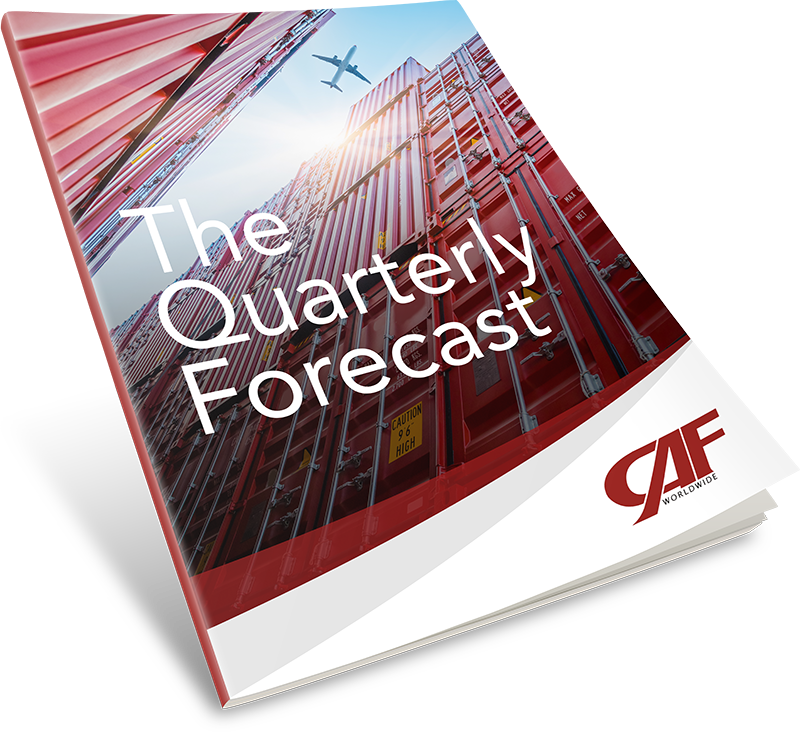 Download The Quarterly Forecast Now
Issue 7: April 2020
Featuring Insights from Customs Brokerage Expert and CAF Worldwide CEO Joe Barry, Trade Lane Notes by Director of Operations Torie Coleman, Thought Leader Commentaries, Apparel Industry Report, and more!
Topics: Freight Forwarding, Global Economic Outlook, freight management logistics, Logistics and supply chain management