Synopsis: U.S. companies are moving all or parts of their supply chains out of China and into developing Southeast Asian markets with increasing frequency due to the ongoing trade war between the two economic superpowers, with additional ramifications yet to be determined.
Executive Summary
Gradual migration of supply chains out of China in favor of Southeast Asia began long before President Donald Trump began slapping tariffs on Chinese goods. Cambodia, Vietnam and Bangladesh, for example, have all experienced tremendous trade growth, relatively speaking, throughout the last decade or so, with Washington's recent penchant for utilizing tariffs as its main negotiating tool further exacerbating the associated supply chain consequences.
With more than $250 billion in tariffs already imposed, and President Trump's proposed plan to place tariffs on all remaining commodities from China creating even more uncertainty, it is difficult to gauge just how worried we should be about blanket duties actually coming into fruition. The Trump administration has been hesitant to pull this additional $300 billion trigger, announcing at the conclusion of June's G20 summit—a two-day meeting of 19 countries and the European Union (EU) representing most of the world economy—it would hold off on executing this fourth round of tariffs "for the time being."
Trump has good reason to ease up: Election time is nearing, and this next wave, which would include apparel and footwear, would devastate mega-retailers such as Walmart and Target and affect the ultimate consumer drastically—Middle America, specifically, the president's powerbase. To date, Trump's China tariffs have already cost $16 billion in bailouts to burned farmers, whose backing is crucial for Team Trump come election season. A study by the Federal Reserve Bank of New York suggests 2018 tariffs have cost the average household $419 annually.
No matter the escalation and duties ultimately levied, it'd be impossible to replace the so-called "Sleeping Giant" entirely, but other countries are certainly benefiting from the shift right now. Those for whom a move away is inevitable are advised to reconsider their logistics partnerships, as many forwarders and brokers working out of China are inexperienced in developing Southeast Asian markets. With significantly less-stable infrastructure than China, the importance of well-established relationships in the region cannot be overemphasized.
As always, we will continue to monitor the situation and provide extraordinary freight forwarding and logistics services to our clients, no matter the seas ahead.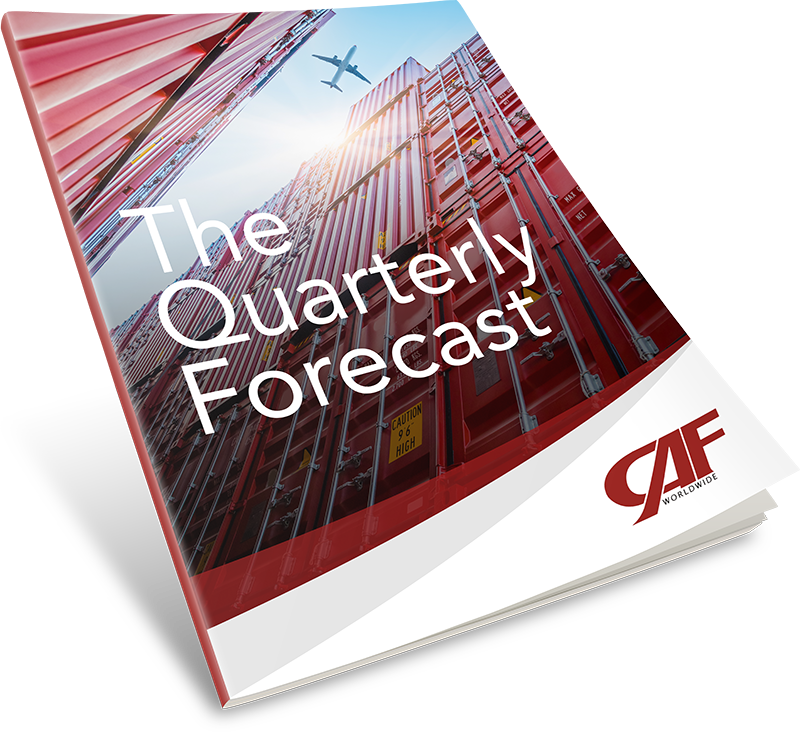 Download The Quarterly Forecast Now
Issue 4: August 2019
Featuring Insights from Customs Brokerage Expert and CAF Worldwide CEO Joe Barry, Trade Lane Notes by Director of Operations Torie Coleman, the Global Economic Forecast, and more!
Topics: Global Economic Outlook