Prior to the ongoing, tariff-laden United States-China trade wars, importers in industries such as footwear, apparel, and textiles were already feeling the brunt.
Many manufacturers had already moved toward alternative strategies, such as duty drawback, tariff engineering, and more dramatically, shifting supply chains to alternate countries.

One of the biggest beneficiaries of this has been Vietnam, which saw its U.S. trade rise to 70.9 billion through the first 11 months of 2019, according to U.S. trade data resource WorldCity Trade Solutions' analysis of the most recent U.S. Census Bureau data.(See accompanying chart) This, according to the analysis, is "30.58 percent above its total trade during the same time period last year."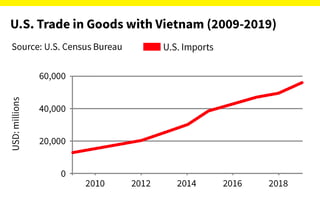 Here are six points to consider if you're thinking about moving your supply chain to Vietnam:

1. Evaluating Production Relocation
Vietnam's proximity to China makes it a valid location for a supply chain shift. While it's not as established as China, its workforce is increasing in skill and experience, and its labor costs are at a lower price point than its Chinese neighbors. This, with the absence of tariffs, deem it a top prospect when re-evaluating your supply chain.
Apparel and footwear led the way for Vietnamese imports, and both have already established a presence due to the aforementioned increased tariffs. According to the Office of the U.S. Trade Representative (USTR), top import categories from the two-digit Harmonized Tariff Schedule in 2018 were: "electrical machinery ($11 billion); knit apparel ($7.2 billion); footwear ($6.2 billion); furniture and bedding ($5.1 billion); and woven apparel ($5.0 billion)."
Another cost-savings Vietnam offers is quality control (QC). Should a shipper utilize a third-party provider for product inspections, those expenses must be factored.
A freight forwarder with established Vietnamese contacts can facilitate a process for handling by a licensed, local QC inspector. Without this, the shipper could risk issues such as longer production times and extra expenses for inspectors that will incur travel expenses from outside Vietnam.

2. Analyzing Costs
Tariff increases aside, many shippers have also considered a supply chain transition due to increased Chinese labor wages.

In 2019, Vietnam's minimum monthly wages from region to region were calculated at $125 to $180. On the higher end were urban-based facilities located in Ho Chi Minh City and Hanoi, which were still 50 percent less than Chinese minimum earnings, ranging from $140 to $346.

These rates are set to remain stable, furthering the country's position as a more cost-effective option to China. According to pan-Asia professional services firm Dezan Shira & Associates: "Vietnam's wages increased 5.3 percent last year, down from 6.5 percent in 2018." This is good news for labor-heavy industries, such as apparel and footwear manufacturers looking to move from traditionally high tariffs, regardless of production location.
3. Navigating the Infrastructure
As a developing trade nation, Vietnam isn't yet on par with its Chinese counterpart. Still, the country is steadily improving its infrastructure due to increased import/export partnerships with countries such as the United States. Its proximity to China and its more than 1,900-mile coastline boasts 114 seaports—Saigon, Hai Phong and Da Nang are the largest.
While not as highly developed as China, Vietnam—according to international financial institution World Bank's 2018 Logistics Performance Index—still ranks higher than other neighboring Association of Southeast Asian Nations (ASEAN) countries, at number 39. This is ahead of Indonesia (46) and India (44). The country's $5 billion under-construction North-South Expressway is expected to improve its current transportation modes and facilitate additional freight capacity.
Going into the next three years, "Vietnam's growth is moving toward 6.6 percent," according to World Bank, making it an appropriate location for additional infrastructure investment, which is already around double the worldwide average.


4. Current Labor Force Capabilities
Due to the aforementioned industries, such as footwear and apparel, which already experience high tariffs, Vietnam has gained traction as a production hub. This has led to many footwear companies investing time and money into improving the country's manufacturing infrastructure regarding skilled labor training, education, and technology.
The Vietnamese government has also made strides to include increased vocational and technical training. This is to meet labor market guidelines and to satisfy an accreditation of vocational education known as Decree No. 49/2018/ND-CP.
According to payroll software provider Global Payroll Association: "As of February 2018, more than 1,900 vocational training centers had been set up across Vietnam, including 395 colleges and 545 vocational schools offering courses in tourism, beauty services, IT, construction, fashion, garment and textiles, pharmaceuticals, precision mechanics and hotel management."
5. Points of Entry
A freight forwarder can help shippers evaluate the best way to enter the Vietnamese market. If the shipper requires a quick supply chain transition, the most expedient method is through local partnerships. With this solution, the company agrees with the Vietnamese facility to produce a specific amount of product to meet its specs.
Utilizing a Vietnamese supplier won't require a local, on-site presence. A well-connected freight forwarder/customs broker that has an established understanding of the area's logistics and customs procedures can act as a liason on the shipper's behalf.
6. General Challenges
Vietnam is a growing trade entity, however with any change, potential obstacles must be addressed.
An experienced freight forwarder with long-term Vietnamese presence can assist with challenges, such as site selection. It can also ascertain whether the shipper's product can be manufactured in Vietnam with a similar process established in the current production facility.
This includes meeting requirements such as environmental and customs regulations, applicable tax rebates, and securing the proper bonds and licenses to accept and store products.
Access to a licensed customs broker is also helpful. Working with one that already has ties to Vietnam is an added benefit. His or her understanding of the specific documents needed, as well as what's necessary to complete and present to that country's agencies, is a necessity when learning a new process.

Consult a Logistics Professional
When deciding if a supply chain transition to Vietnam is the right move for your business, an experienced freight forwarder and licensed customs broker can help navigate the process and take away the typical pain points associated with the transition.
Download CAF's United States-Vietnam Trade Snapshot to learn more
---
CAF Worldwide has held a stronghold in Vietnam for 20-plus years, and maintains an established network of logistics partners. Give us a call (516-444-3700), or send an intro email (info@cafworldwide.com) to learn how we can help with your Vietnam supply chain transition and processes.


Click here to subscribe to our website, and to receive the latest CAF Worldwide Quarterly Forecast direct to your inbox.
Topics: Freight Forwarding, Footwear and Apparel, freight management logistics, Logistics and supply chain management