The novel coronavirus (COVID-19) is wreaking havoc on industries throughout the world, and shipping and apparel are no exception. Carriers, ports, shippers, freight forwarders, airfreight providers, and many more are experiencing disruption, with leaders across the sector strategizing to best respond in the insidious disease's wake.
The critical commentary below contains key insights from top executives within the apparel industry as they contend with COVID-19's ever-rippling effects on maritime trade, transportation, freight forwarding, shipping, logistics, and supply chains.
For more information, contact CAF Worldwide today, and subscribe to download our Quarterly Forecast for additional insights, and much more.



Ashley Craig
Co-Chair, International Trade and Logistics Group, Venable LLP
"The closest I've seen to our current situation was in 2008-2009 during the Great Recession. We were previously at 2016 levels, but now every single increase has gone down, and we need to take the long view. I don't think anyone believes even half a sense of normalcy at the end of March. We're looking at this being the situation of the new normal through April and into May. I'm looking at Hong Kong and China, it hasn't been six months—it's been four to six weeks. They have taken decisive action and are seeing a shift and a pivot. So why would we be any different?"


---

Jeffrey Orenstein
International Trade and Transportation Lawyer,
K&L Gates LLP
"The apparel industry has been delivered a double blow with the coronavirus— COVID-19—on the one hand, creating logistics bottlenecks, and elevated sourcing costs out of China, on the other hand, due to heavy tariffs on apparel. The American Apparel & Footwear Association joined numerous other business associations urging President Trump to consider emergency measures to mitigate the economic harm of COVID-19 by suspending tariffs against Chinese-origin goods and other tariffs paid by U.S. importers."


---

V. Ann Paulins
President, International Apparel and Textile Association
"The Bear Market is a major influencer for retailers and apparel/textile manufacturers right now. The stock market, coupled with the timing of 2020 being an election year, leaves uncertainty in the minds of consumers as well as business leaders. It is a time that consumers are likely to feel uneasy about spending money—and they will be inclined to focus on basic needs, including supplementing savings if possible, rather than spending on the 'frivolity' of fashion."


---

Jordan Speer
Research Manager, IDC Retail Insights
"It's tough to predict how the next several quarters will pan out, because so much depends on the progression of COVID-19 through the population and the devastation it wreaks. IDC has set forth three scenarios—optimistic, probably and pessimistic. The probable scenario, put forth several weeks ago, suggests impacts on supply chain and economy well into Q2. But as more time passes, we are moving farther from probable and closer to the pessimistic, which predicts, among other things, factories finally getting back to full capacity in June. With the pessimistic scenario, the outbreak lasts longer than expected, continuing into the Q3 of the year, with travel control measures also not lifted until then."
---

Peter Tirschwell
Vice President, Maritime & Trade,
IHS Markit
"The economic crisis due to the coronavirus is deepening in the U.S. and worldwide. It is not clear how severe the economic impact will be, but the potential for economic damage is very real. According to IHS Markit, 'This is both a demand-side shock—with damage to travel, tourism, and any activities involving large crowds—and a supply-side shock, with major disruptions to supply chains. Some have referred to the supply-side effects as a 'human credit crunch.' This will be a U-shaped rather than V-shaped cycle, with a sharp reduction in growth, followed by slow recovery."
---

David Weinand
Chief Customer Officer,
Incisiv, Inc.
"Unfortunately, I believe the industry is in for an extremely rough year, not just one to two quarters. It is likely that the consumer psyche will be forever changed, or at least changed for one to two years, as this pandemic plays out. In the short term, consumers will revert to the most basic level of Maslow's Hierarchy of Needs, and that will not be that new blouse or pair of designer shoes."
---
The above insights were excerpted from the CAF Quarterly Forecast. For more, please subscribe below to download the full Q2 2020 edition.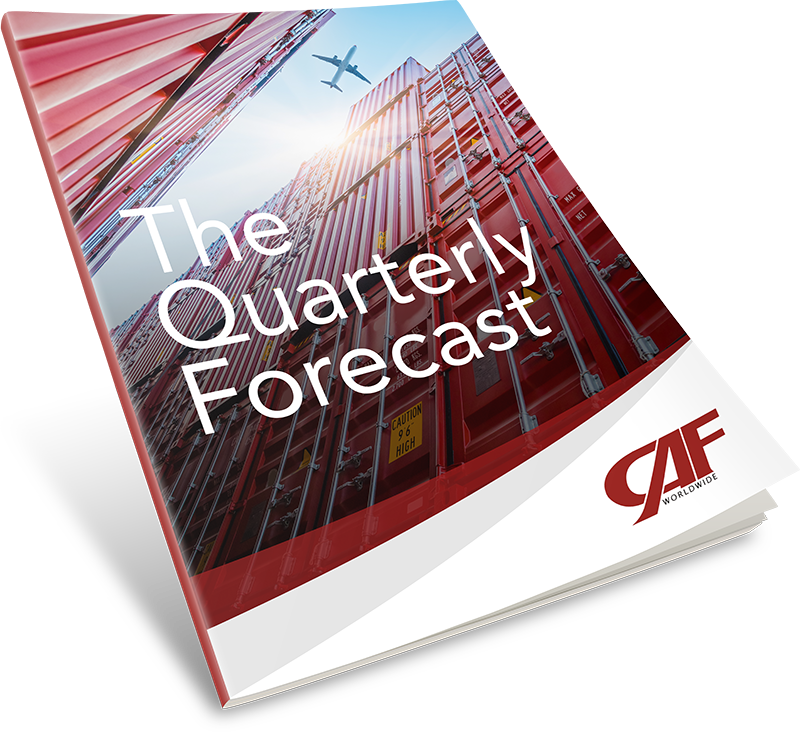 Download The Quarterly Forecast Now
Issue 7: April 2020
Featuring Insights from Customs Brokerage Expert and CAF Worldwide CEO Joe Barry, Trade Lane Notes by Director of Operations Torie Coleman, Thought Leader Commentaries, Apparel Industry Report, and more!
Topics: Freight Forwarding, Global Economic Outlook, freight management logistics, Logistics and supply chain management