Originally published in the January, 2019 issue of the Quarterly Forecast
Unemployment is down, wages are on the uptick, and consumer spending reflects an economy with ample disposable income to spare. Despite all signs pointing toward a happy, healthy economy, businesses and consumers alike would do well to brace for impact as an unpredictable trade war between China and the United States continues to churn.
In summary, Q4 2018 embodied the very essence of chaos, as impending tariff deadlines goaded panicked ordering decisions within global supply chains several months ahead of schedule. As supply chain professionals, we pride ourselves on our penchant for planning, but even the best-laid plans stand to be devastated by President Donald Trump's threat of 25% tariffs on all Chinese imports. To avoid paying unprecedented duties, many retailers rushed to collect their entire Q1 2019 inventories ahead of Trump's initial January 1 deadline (since delayed until March 1), which spurred a chain of events leading to sky-high spot rates and a severe bottleneck in trucking.
Tough questions still remain: Will we see a second front-loading push before the next round of tariffs? How will supply chains mitigate tariff-related pitfalls? Will the 25% duties on Chinese goods ever even come to fruition?
These are the mysteries plaguing forwarders and the shipping industry at large. The truth is, we are just as much in the dark about the future of tariffs now as we were in October, and we can expect a lot of the same uncertainty in 2019.
We may not have all the answers, but what we do have is a wealth of strategic knowledge derived from decades of experience tackling every freight forwarding difficulty head-on, and a dedicated network of preferred partners who have our backs as staunchly as we have theirs.
We will continue to monitor the situation, and continue to provide unprecedented freight forwarding and logistics services to our clients, no matter the seas ahead.
TARIFF UPDATE: A TALE OF TWO DEADLINES
At the start of the last quarter, businesses were told to prepare for the worst. July and September tariff adjustments were set to increase once again, this time from 10% to 25% at the start of the new year, January 1, 2019. On the same day, previously unaffected Chinese goods were also to be introduced to the tariff list.
News of the January 1 deadline helped fuel an importing boom, as supply chains were forced to make timely decisions regarding their inventories. For many businesses, this meant front-loading entire Q1 inventories ahead of January 1. In doing so, importers inadvertently intensified a persistent trucking shortage that seems guaranteed to worsen before improving.
Tensions spiked at the end of November during the G20 Summit in Buenos Aires, where talks between President Trump and China's Xi Jinping resulted in a surprising 90-day tariff truce until roughly March 1. Suddenly, the dramatics of Q1 inventory acquisition—namely, strategic planning, financial gambling, warehousing turmoil, struggle for cargo capacity, driver scarcity, etc.—seemed all for naught.
A vague commitment to the 90-day pause is the only major detail of the three-hour meeting between the two leaders that's been released to the public. The White House is keeping this one close to the vest, but Trump has suggested a favorable position for the United States in several tweets.
---
The CAF Quarterly Forecast is your go-to resource for all things world trade. Subscribe to receive your copy straight to your inbox.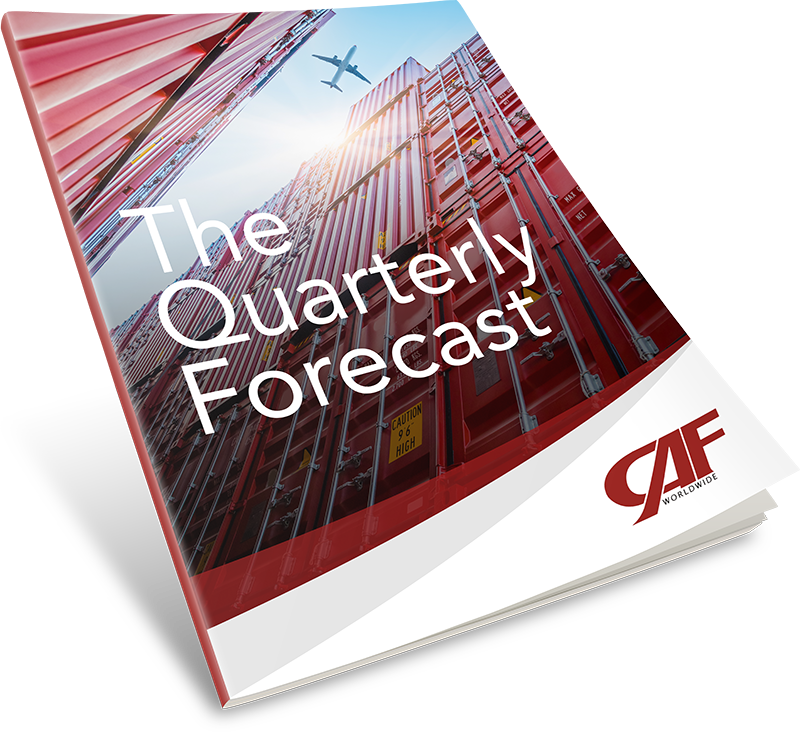 Download The Quarterly Forecast Now
Issue 2: January 2019
Featuring "Joe's View," Trade Lane Notes, Global Economic Forecast, Journal of Commerce Highlights, and more!
Topics: Global Economic Outlook