Originally published in the April, 2019 issue of the Quarterly Forecast
The shipping industry is breathing a much-needed, collective sigh of relief after an extremely hectic Q1. All is now quiet on the western front... for now.
There are a few lasting unknowns pertaining to trade negotiations, tariffs, and carrier consolidation, but these industry issues are mere anthills compared to the mountainous build-up of containers at U.S. ports during the several months between President Donald Trump's $250 billion tariff announcement on Chinese goods last September and the start of the Chinese New Year this February, when shippers scrambled to get ahead of the new measures, while traditionally rushing to get orders out in preparation for the prolonged shutdown of many Asian factories and businesses.
Those entangled in the ensuing port congestion were subject to an astounding amount of associated charges, due to increased wait times and carrier rate inflation. Eventually, one of two things will happen: either costs incurred by shippers will be passed to consumers, or we'll see companies lower earnings, because they're holding inventory. Any further economic effects will likely become clearer in Q3, though there are several reasons to be optimistic about the overall health of global trade.
Thus far, the U.S. trade war with China has slowed down the latter's economy, affecting global economic growth. We are not experiencing any heightened threat from an inflation standpoint, however, which suggests the downward momentum is symptomatic of the Trump administration's trade practices rather than the end of an economic cycle. So, while the slowdown is indeed very real, low unemployment and a low-interest rate environment should help to dispel recession-related anxiety.
Much will depend on the timing and parameters of an anticipated resolution or compromise in U.S.-China economic relations going forward. It is likely the demands of the electoral cycle will lead the two to an agreement rather than further escalation.
As always, we will continue to monitor the situation and provide extraordinary freight forwarding and logistics services to our clients, no matter the seas ahead.
DEJA VU AT THE PORT OF L.A.
From 2014 to 2015, a longshoreman strike halted trade at nearly 30 U.S. ports along the Western Seaboard. Lasting about three months, the work stoppage resulted in hundreds of vessels stalled just off the coast for its duration. Once ended, it took dockworkers six months to get back on track.
This congestion was a walk in the park compared to what happened after President Trump's tariff announcement at the tailend of 2018: In anticipation of its implementation, and with trepidation over threats of an even further escalation, cargo volumes from China skyrocketed. Consequently, there simply weren't enough boats or resources—human or technological—at East and West Coast ports.
For context, even in a congested port, it normally doesn't take truckers more than four days to retrieve a container. This time around, between the ports being ill-equipped to handle such capacity, the curtailment of trucking fleets, and a severe shortage of chassis, truckers couldn't get containers out of the port for 10 to 15 days post-delivery orders. Such havoc created an average charge of $3,000 per container in demurrage—costs incurred by shippers when a container is left unloaded at a port for longer than the allotted grace period—for every forwarder.
---
The CAF Quarterly Forecast is your go-to resource for all things world trade. Subscribe to download the PDF.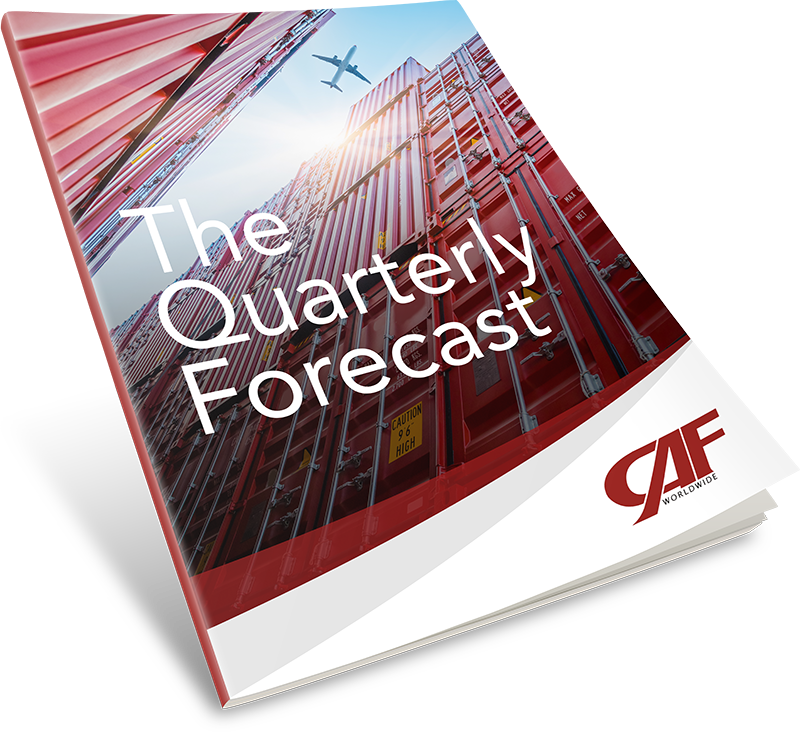 Download The Quarterly Forecast Now
Issue 3: April 2019
Featuring Insights from Customs Brokerage Expert and CAF Worldwide CEO Joe Barry, Trade Lane Notes by Director of Operations Torie Coleman, Acclaimed Economist Dr. Michael Obuchowski's Global Economic Forecast, and more!
Topics: Global Economic Outlook