With economic and health concerns currently plaguing China, shippers have been exploring alternative supply chain options, such as Bangladesh. Its rapidly improving infrastructure and lower production costs make it an attractive choice.
Other countries being considered include Vietnam, Cambodia and Mexico. Such options can help overcome Chinese supply chain challenges, such as production slowdowns and capacity issues.
Navigating a country's unfamiliar processes, policies and infrastructure can be overwhelming. It's therefore vital to seek help from an experienced freight forwarder and licensed customs broker. Working with a company that provides both services in-house can streamline the process even more.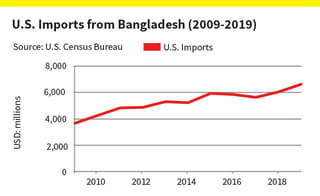 Let's examine five items CAF Worldwide can assist with prior to your Bangladesh supply chain shift.

1. Economy & Health
China is undergoing a sluggish economic period hampered by high costs, an extended New Year, and explosive coronavirus outbreak.
This tragic trifecta has resulted in production slowdowns, blank sailings, and in some cases, complete workforce shutdowns.
This has led shippers to other countries, such as Bangladesh. But some have concerns regarding the still-developing nation's sustainability, economy, and business practices.
Bangladesh's global trade position has increased in the last 10 years. According to the Office of the U.S. Trade Representative (USTR), it was the 43rd-largest supplier of goods imports to the United States in 2018.
USTR data states: "U.S. goods imports from Bangladesh totaled $6.1 billion in 2018, up 7.3% [$416 million] from 2017, and up 62.8% from 2008."
With China the longtime stronghold, Bangladesh isn't far behind, especially within apparel. According to an article titled "What Makes Bangladesh—A Hub of Garment Manufacturing?" by Stitch Diary, an educational blog for the apparel industry by expert Mausmi Ambastha, published on online social platform Medium: "Bangladesh is the world's second largest Readymade Garment (RMG) exporter, just behind China. Country's 81% of exports come from the RMG sector, and the textile and apparel sector contributes around 20% to Bangladesh's GDP."
According to the USTR, the country's top 2018 "import categories [according to the 2-digit U.S. Harmonized Tariff Schedule] were: woven apparel [$3.8 billion]; knit apparel [$1.5 billion]; miscellaneous textile articles [$218 million]; headgear [$180 million], and footwear [$130 million]."
Partnering with a freight forwarder boasting a well-established Bangladeshi presence can help shippers capitalize on import growth.


2. Ocean Carrier Capacity

China is the clear leader, with 34 major and 2,000 minor seaports, compared to Bangladesh's 12 ports.
The Port of Chittagong is the latter's main hub, "handing $100 billion in foreign trade annually," according to The Journal of Commerce.
Bangladesh's second-largest port, Mongla, is set to increase by 300,000 TEU. This expected to ease Chittagong congestion, long port queues, demurrage fees from late-arriving goods, and add special priority loading space and accommodations for last-minute shipments.
According to the JoC, the $710-million project will "add 10 percent to the country's existing container handling capacity."


3. Infrastructure
As aforementioned, Bangladesh is expanding port capacity. But what about its intermodal transportation methods? The country admittedly has its challenges, but is forward thinking, regarding improvements.
This includes construction of the Second Meghna and Gumti bridges on the Dhaka-Chittagong route, which has shortened travel times between these two main seaports.
The country's third-largest Port of Payra is trying to complete improvements, but these are delayed by necessary dredging.
The project's steering committee anticipates December 2019 revisions to be completed in two years. This includes two separate lots, which according to Indian- English-language daily newspaper The Business Standard, will comprise "a yard, a terminal, a shed, a workshop, a fire station, some parts of trestles, and some related infrastructure. Tenders for this lot have been invited. Meanwhile, Lot 2 will see the jetty, some parts of trestles, and required infrastructure constructed."
The Chittagong Port Authority announced in October 2019 its decision to add an automated overhead conveyor system to increase production flow and ease truck congestion at this busiest Bangladesh port.
According to the JoC: "Port officials are hopeful—they say carrying containers with the conveyor system will enhance the port's container handling efficiency by 15 percent, as some 300 TEU can be moved in an hour."


4. Production Costs
China leads in low-cost production, and Bangladesh is at No. 2. According to Bangladesh-based English-language newspaper The Daily Star,: "Outside of China, India and Bangladesh are increasingly given preferences for textile sourcing due to being lower-cost destinations."
This is in accordance with the findings of the "2018 AI Global Sourcing Survey" by AsiaInspection, a leading quality control and compliance provider, and included insights from top officials of more than 250 companies across all major consumer product sectors.
"Of the 250 surveyed, 16 percent said Bangladesh is their destination of choice for sourcing textile and garment products," according to The Daily Star.
5. Labor Force Skills

Labor is less expensive in Bangladesh than China. Chinese workers were paid an average of $270 per month in 2017, versus $250 per month in Bangladesh, according to the aforementioned Medium blog.
Lower-cost labor doesn't necessarily translate to a lower skill set, either. Bangladesh is implementing additional workforce training to attract more proficient garment labor.
Many Bangladeshi Readymade Garment (RMG) producers are implementing internal training programs through Sudokkho, a provider of a private skills training market development program in the country.
According to Sudokkho: "[RMG] sector employs more than 4 million people in Bangladesh and is key to the country's economic success. Generating more than 75% of export earnings, the government of Bangladesh has identified growth in the RMG sector as vital to achieving its aim of reaching middle-income status by 2021."

Consult a Logistics Professional

Considering the aforementioned items, an experienced freight forwarder and licensed customs broker can help navigate the supply chain shift to Bangladesh. They can also remove any pain points and other associated transition challenges.
Download CAF's United States-Bangladesh Trade Snapshot to learn more
---
CAF Worldwide maintains an established network of logistics partners in Bangladesh. Give us a call (516-444-3700), or send an intro email (info@cafworldwide.com) to learn how we can help with your supply chain transition.
Click here to subscribe to our website, and to receive the latest CAF Worldwide Quarterly Forecast direct to your inbox.
Topics: Freight Forwarding, Footwear and Apparel, freight management logistics, Logistics and supply chain management