By Torie Coleman, Director of Operations, CAF Worldwide


The novel coronavirus (COVID-19) pandemic continues to upend global health and finances, leaving many industries, including apparel, reeling.
This, in addition to previous disruption from tariffs, an extended Chinese New Year, the addition of even more blank sailings and decreased capacity, have many apparel supply chain experts wondering what could possibly be next.

Below we'll examine key issues affecting this industry and how freight forwarders can assist.

Blank Sailings
These have afflicted the shipping and apparel industries on all fronts. This includes production schedules, orders received, and factory shutdowns.
Per the last CAF Quarterly Forecast, blank sailings are up and will continue to rise. According to The Journal of Commerce (JoC), last year there were "253 (blanked) sailings in the east-west lanes compared with just 145 skipped voyages in 2018."
The Port of Los Angeles-Long Beach saw more than 40 blank sailings in February and March. This is expected to continue for the near future. According to the JoC: "members of THE Alliance (Hapag-Lloyd, HMM, Ocean Network Express, and Yang Ming) announced the cancelation of 32 sailings in April on the Asia-Europe, trans-Pacific, and trans-Atlantic trades."
These cancellations are indicative of how demand is quickly decreasing, leaving shippers and forwarders to craft quick and creative contingency solutions.

Production Delays
China-based apparel manufacturers were already backed up more than two weeks from the extended new year—and COVID-19 continues to exacerbate this problem. Both Readymade garments and special orders will feel this—with the latter weathering the brunt.
Erratic carrier volumes and decreased rates are also to blame. Even with blank sailings, vessels are still departing with less than 46 percent tonnage.
Chinese supply chain transitions continue to be part of discussions for shippers, underscoring the importance of connecting with a freight forwarder that has established networks within alternative nations, such as Vietnam and Bangladesh.
Ports & Trucking
As a Chinese import/export hub, the Port of Los Angeles is experiencing some of the steepest decreases due to current economic conditions.
According to American Shipper: "Fewer ship calls in the midst of the coronavirus pandemic as well as lingering effects from the United States' trade war with China resulted in a 17.9% year-over-year drop in imports at the Port of Long Beach in February."
This is also affecting intermodal transportation, with many trucking companies serving this port experiencing losses, and some forced to close down.
Truckers have reported as many as eight to 10 terminal windows shuttered, causing delays and back-ups. Some are being turned away for container pickup/drop off.

Modified scheduling adds to low productivity and more delays to an already backed-up supply chain.
While it costs slightly more, a freight forwarder can help shippers move goods from China through other regions, such as the ports of Houston, New Orleans and Baltimore. With less wait time and congestion, goods can then be trucked to their West Coast destinations.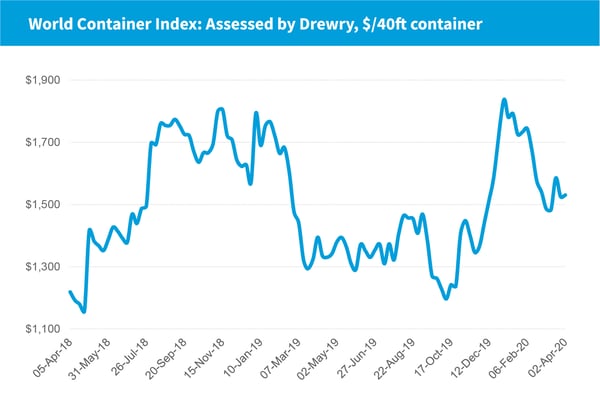 Source: The World Container Index assessed by Drewry, a composite of container freight rates on eight major routes to//from the United States, Europe, and Asia.
Second-Quarter Predictions
Moderate to massive production and transportation delays will continue across.ocean, intermodal, and airfreight transport. Skipped sailings will continue to show their effects, with delayed cargoes and decreased capacity. It's recommended to add at least one week to current shipment estimated arrival times.
To help with industry losses, the bellies of many grounded passenger planes are being alternatively used for airfreight shipments. Even with doubled rates, shippers are resorting to airfreight due to high ocean shipping costs.
According to the International Air Transport Association (IATA), as cited in American Shipper: "Freight volume dropped 9.1% in February, on a seasonally adjusted basis, as the effects of the coronavirus mostly impacted the China market. For perspective, cargo volume in February was equivalent to that in mid-2016. The disease shut down Chinese production for much of the month and global export orders fell to historic lows. Asia-Pacific carriers fared the worst, with a 15.5% drop in volume."
How Supply Chain Specialists Can Help
While every facet of the industry is experiencing a COVID-19 downturn, there are solutions to rework supply chains to combat this. These include contingency planning elements such as shifting production to alternative nations, negotiation of unexpected spot rates, and differing transportation modes.
In addition, supply chain specialists should consider working with a dedicated freight forwarder, such as CAF Worldwide, who can:
Provide Creative Supply Chain Planning & Negotiation Tactics
Help With Supply Chain Transition Outside of Mainland China
Cultivate Relationships in Alternative Nations Not Experiencing Production Delays
---
The preceding blog was excerpted in part from the CAF Quarterly Forecast. For additional insights, please complete the form below to download the full Q2 2020 edition.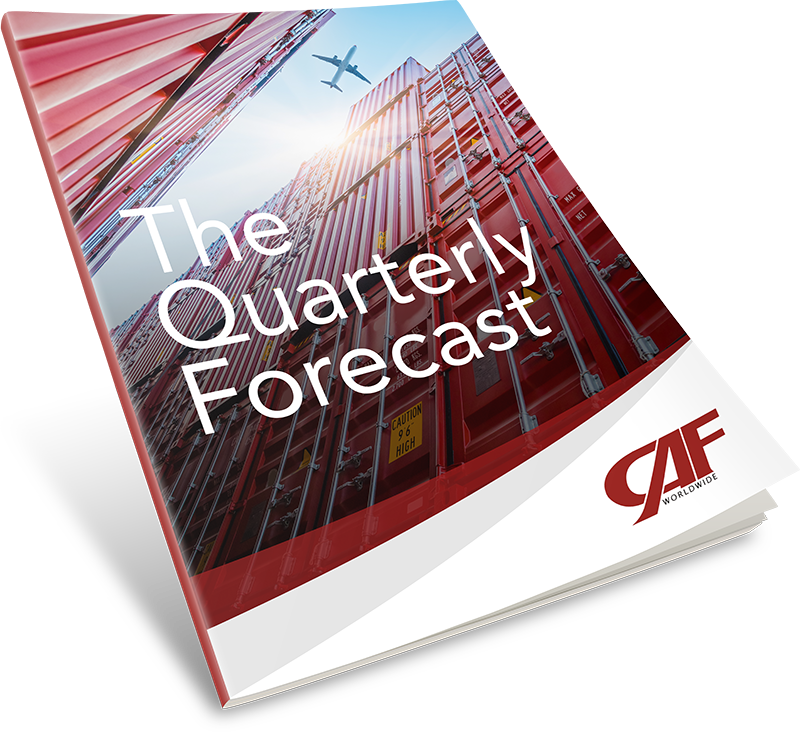 Download The Quarterly Forecast Now
Issue 7: April 2020
Featuring Insights from Customs Brokerage Expert and CAF Worldwide CEO Joe Barry, Trade Lane Notes by Director of Operations Torie Coleman, Thought Leader Commentaries, Apparel Industry Report, and more!
Topics: Freight Forwarding, Global Economic Outlook, freight management logistics, Logistics and supply chain management