As always, we will continue to monitor the situation and provide extraordinary freight forwarding and logistics services to our clients, no matter the seas ahead.
Moving Supply Chains Out of China
As aforementioned, it's important to recognize that supply chain shifts away from China were already in the works, yet on a less-immediate time frame. Companies were already moving out because trade there was getting expensive with or without new tariffs. Now, however, for supply chains to continue operating within budgets, there is no choice but to look outside its borders—an urgency propelled by the constant threat of tariffs. Trump's trade war is simply creating an environment where the inevitable is occurring sooner rather than later.
At CAF Worldwide, we've had several customers who've already moved small pieces of their supply chains to Cambodia, Vietnam or Bangladesh, depending on their commodities. Longer-term, we're talking with supply chain managers who will be moving as much production as they can—again, depending on the commodity.
The key for these supply chains right now is to pay close attention to their service providers. What we're seeing is an eagerness to move supply chains around, but an uncertainty about where exactly to go. If you're using a freight forwarder out of China and now trying to work in Central America or Southeast Asia, that provider might not be the best choice for you.
Oftentimes, importers work within very specific niche markets, so we've also had people reaching out to us looking for capacity within these. We anticipated this. Everybody is moving their suppliers to other markets, where they don't have a lot of contacts, so they're struggling with unprecedented issues pertaining to space. Many forwarders work exclusively out of China and the United States. If you are going to work with one of these forwarders that has no infrastructure within the markets you are trying to break into, you are going to struggle—there's just no two ways about it.
That's not to say these forwarders are incompetent. Most still in business today following the major shakeout during the last decade and hyper-competitive markets of recent years are more than capable, but forwarders have decidedly distinctive strengths. For example, while one may be fantastic in China, if you move to Vietnam, it might not have a good office there, might not have contracts there, might not have enough volume there. That makes it difficult to provide the same level of service. It's not to say it's not a good company, it's just that certain lanes may not be in their wheelhouse, so to speak.
Bangladesh, for instance, is one of the most difficult markets in the world, logistically, but its labor costs are significantly cheaper than in China, and the country is known to produce high-quality goods—cotton, specifically. If you do not work in Bangladesh, and you have a client who moves there, you're not going to be successful right away. Cambodia is similar in that way. Its infrastructure leaves much to be desired, and the same can be said of its port systems. All other things being equal, if you do not know the right people or have the right contacts, it can be very challenging, if not downright defeating.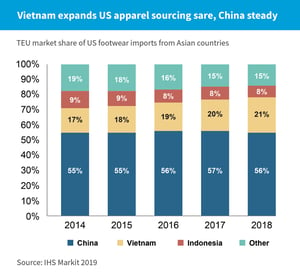 Vietnam: Footwear Powerhouse
"Footwear is a funny thing—it's highly specialized, so it's one of the harder commodities to move out of China, because they have the technical knowledge and manufacturing capabilities, but Vietnam has been creeping up on them."
According to PIERS, a sister product of international shipping and logistics news and analysis site JOC.com within global information provider IHS Markit, Vietnam has seen a steady increase in both market share and volume for U.S. imports throughout the last five years.

Market share has increased by about a percentage point, annually.

Volumes were up 12.5 percent year over year, to 161,171 TEU.

Vietnam's footwear imports to the United States have almost doubled in the past five years, while its market share for U.S. footwear sourced from Asia has risen to 24.2 percent.
More Tariff Threats
In May, President Trump threatened to impose tariffs on all goods imported from Mexico beginning at 5% and increasing another 5% each month before reaching their peak at 25% in October. The threat was retracted soon after, with President Trump citing an agreement regarding immigration legislation as the reason.
Additionally, in May, the Trump administration warned the EU about potential levies to be placed on imports, worth about $21 billion. A decision is expected regarding $7 billion in EU tariffs by summer's end.
Mexico
The immigration agreement President Trump is referring to would advance a program known as the Migration Protection Protocols, which sends those seeking asylum in the United States to wait in Mexico as their cases are processed. (Reuters)
EU
The list of EU imports in danger of being slapped with new tariffs includes: cashmere, cotton, handbags costing more than $20, wool sweaters and vests, and other wearing apparel items. It also includes certain food and beverage items, such as certain cheeses and liquors.
The EU is expected to respond with retaliatory tariffs on roughly $22 billion in imports from the United States.