China Tariffs
The United States levied a 15-percent tax on a combined $120 billion of Chinese imports (List 4A) in its latest round of tariffs. A second list of products, worth approximately $160 billion, is slated for the same 15-percent import levy come December. This latest salvo in the continuing trade war followed a series of tweets from President Donald Trump in which he ordered U.S. companies to move manufacturing out of China and urged companies such as FedEx to search Chinese shipments for Fentanyl, a synthetic opioid.


Implementation of List 4B tariffs was delayed until Dec. 15 amid concern that it would negatively impact holiday shoppers, especially those hunting for electronics. The combined lists include all apparel, footwear, and manufactured textile products, among others, but exclude specific medical and pharmaceutical goods, rare earth materials, and critical minerals. The administration also suggested that it may still be possible to avert the 4B tariffs altogether, if a new trade deal with China can be struck in the meantime.

While affected supply chains are certainly sourcing elsewhere or moving resources outside of China, the tariffs associated with these goods are still very new and many importers who believed apparel goods were safe from tariffs were not prepared. Since wearing apparel is a difficult industry to suddenly pick up and transport en masse, the tariffs may force the industry to identify long-term changes in that sector of international shipping.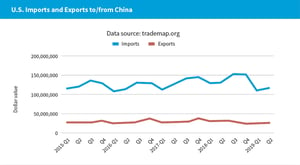 Will the trade war be resolved ahead of the next round of tariffs? Well, recent history suggests a resolution in the near term is quite unlikely. China may be counting on President Trump leaving office before his first term is up and hoping his successor would be more amenable to ending the prolonged trade dispute.
There are signs of tensions thawing, however. The United States and China have held high-level discussions and there were reports of a "phase one" agreement, but the details remain unclear. The fact both leaders have been talking does allow for some optimism that something will get done to relieve tensions. China is being hurt more than they are willing, or permitted, to admit through their media outlets. The tit-for-tat tariffs are affecting China as much as, if not more, than they are impacting the United States. One major difference, however, is that the Chinese government can toe the line on messaging, which makes it difficult to say with any degree of certainty what the endgame will look like, or when it will come to fruition.